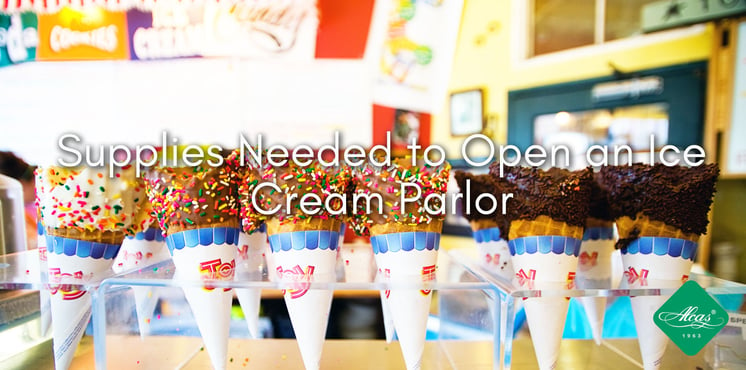 There's nothing like the nostalgic taste of good ice cream. It reminds us of the days of our childhood. Sometimes this tends to be the reason why people open their own ice cream parlor. An ice cream shop is one of the most enjoyable yet surprisingly lucrative ventures out there. You have no worries as to lack of customers, because everyone loves ice cream! The challenge here is how you can stand out from the rest. The first step is making sure you have the right supplies needed to open an ice cream parlor.
Liquid Gold Machines
We're not talking about literal machines that churn out gold in liquid form. We're talking about the ice cream machines themselves. You can't start an ice cream business without the machine that makes the ice cream to begin with. When buying the ice machine, you should have a set of criteria to base it on. Is it within the price range of your budget? Do you plan to have just one big machine or several ones? Is it durable enough to last you a few years even at constant stress? If you want to increase your ice cream sales this upcoming summer, the quality of the ice cream should be only the best. It should have good consistency and it can't be too watery, nor should it also have lumps. Ice cream should be smooth and creamy without it being too difficult to chew.

LEARN MORE: 5 TIPS TO OPEN YOUR OWN ICE CREAM PARLOR
Freezing Storage Space
During a busy work day, you can't afford for the ice cream to melt. It would be a loss to let perfectly good ice cream just go to waste, especially to your wallet. Having a large freezing storage space is also a practical move when you decide to order or make your ice cream in bulk. An ice cream ice cream dipping cabinet solves that problem. These machines can either have sliding door that open and close whenever ice cream is scooped, or a high powered air cooler fan that constantly circulates cool air. You might also want to consider getting an ice cream freezer to store those leftovers.
RELATED: MARKETING TIPS FOR YOUR ICE CREAM PARLOR
Sanitation Equipment
Unless you plan on being a cone-only shop, or serving in ice cream cups, then investing on a cleaning equipment is a must. You need to factor in equipment like utensils, bowls, dishes, trays, and etc. To ensure that you will always have clean tools at hand, your staff should have a cleaning station ready. The aim here is to avoid cross-contamination and reduce health risks for the customers. A unsanitary shop could mean business closure in the long run.
High quality equipment equals better quality of ice cream that you offer. Some machines can even produce a wider variety of ice cream flavors. The quality of your equipment may possibly boost the grade of satisfaction each customer has. It all boils down to your choice of equipment as these will help determine the success with your business.
---
Download our FULL catalog below: