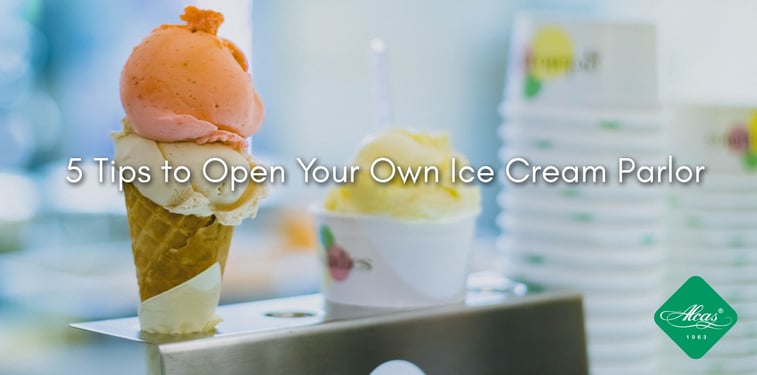 Thinking about opening your own ice cream parlor or gelateria? Read our blog to learn 5 tips to open your own ice cream parlor for the upcoming spring and summer season.
Step 1: Make a Business Plan
When opening your own gelateria or ice cream shop, it is crucial to your success to have a business plan. From the finances to the different flavors and ingredients, it all has to be part of the plan. Consider this the blueprint and make sure you know that this may be one of the hardest parts in starting a business. It is in creating a business plan where you can set your goals to fully develop your business.
LEARN MORE: Marketing Ideas for Your Ice Cream Shop
Step 2: Choosing the Type of Ice Cream Business
Vanilla ice cream in a cone, chocolate flavored cream on a plate with chocolate syrup on it, or whatever you have in mind. Make sure you take this seriously, and keep in mind that opening your own ice cream parlor is not an easy task. It might take you longer to get started because there will be legal requirements to meet, but the end results are worth it.
Step 3: Keep it Legal
Whatever kind of business any entrepreneur wants to start, part of it are the legal requirements. When opening an ice cream business, follow the rules, and this includes the legal requirements the government requests. Keep it legit whether you want to open an ice cream truck or having a physical shop by having the proper licenses that your city requires. Otherwise, your ice cream parlor will have to be closed should you not have the right documents.
RELATED: The Permits That You Need to Own a Gelateria
Step 4: Supplies, Equipment, and the Work Area
At this point, the kitchen is your best friend. The supplies, equipment, and your work area will have to be in harmony with your business. Make sure you have the necessary equipment and supplies to successfully take care of your clients. Remember, you are opening an ice cream parlor and you have to serve ice cream to your ideal customer are your ice cream shop.
Step 5: Wholesale Ice Cream
So you're almost good to go! Now you have your business plan, legal documents, and the required supplies and equipment to finally open. This is the time to open the doors to your customers and fully take advantage of your secret recipe and original tasteful creation.
Opening a business, especially a restaurant or ice cream parlor is no joke. Business entrepreneurs have to ensure the requirements and the things needed to keep their business afloat. These tips will help you and guide you on the path to your new shop.
---
Download our FULL catalog below: