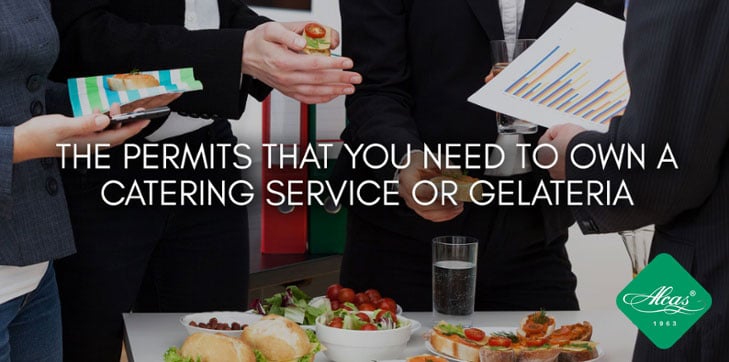 In order for a food business to operate, certain licenses are one of the basic needs for your catering company. Whether it's a restaurant, catering or food cart, permits and licenses must be obtained before the food facility opens up. Permit and license requirements vary depending each city, county and state but here below are the commonly required things that you need to process if you wish to put up a food business facility. Read below to learn more about the permits that you need to own a catering service or gelateria.
Business License
You need obstain and pay for a license fee. You are charged a percentage of your gross sales yearly and this depends on the city you're from, state and the type of business.


Seller's Permit
Business owners should apply for a seller's permit in order to avoid paying taxes in purchased foods and other goods at wholesale price.


Building License
If you're planning on opening a geleteria inside a building, you'll need to pay for a building license with your current city or county. But before they issue your license, a thorough inspection must be done first, which will be conducted by the fire department, environmental safety board, and some other safety organizations.


Health Permit
One of the things you should know before starting a catering business is that you'll need a health permit. Health permits must be issued from your local health department. The health department does a regular health inspection of your food facility to verify if you're following the government's health regulations.


Food Handler's Permit
In some cities and states, they require one or more employees of a food facility to obtain a handler's permit where these employees take food safety classes. It is a protocol to be followed before the permit is issued. If possible, have all your employees obtain food handler's permit because a person with a valid food handler's permit is required to be inside business premises at all times during business hours.



Alcohol Beverage License
If you're selling alcoholic beverages, you need to obtain an alcohol beverage license from the county alcohol beverage control. Beer and wine licenses are actually easy to get, but hard liquor licenses are not so you might need to take note of that. There are some areas where they limit businesses that sell hard liquor products. Also, alcohol beverage license board does not issue a license to business owners who have a past felony record.


Music License
Businesses that wish to play copyrighted music in restaurants should obtain a music license because if not, they will be fined. These three clearinghouses issue this license:
---
Download our free 2017 catalog: