---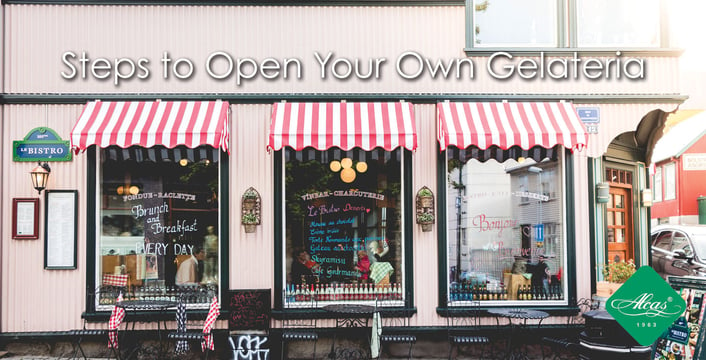 Gelato is a frozen treat that originated from Italy, very popular during the summer season or even year round in cities with tropical climates. Being able to open up your own gelato shop requires a comprehensive knowledge of the history of gelato and how to produce it. Most of your time will also be spent in explaining to your potential customers what gelato is and amplify your vision to them on why they need to eat at your very own gelato shop and not in the usual ice cream shop. Read more to learn the necessary steps to open your own gelateria.
---
Do your research
Try exploring existing gelato shops in your area to learn different kinds of advertising methods used, and find out which locations draw the most customer traffic.


Start a discussion with the owners of established gelato shops to earn expert advice about your own business, and try learning how to use any specific equipment that they use.


RELATED: A Guide Before Opening Your Gelateria



Try keeping in touch with gelato restaurant chains, such as Screme, Paciugo or Grom, to receive more data regarding specific equipment they utilize in their operations and to get to know more about the other special needs of a gelato business.


Participate in trade shows, such as the Great Lakes Ice Cream and Fast Food Association Show, to meet with potential suppliers and learn more about required techniques and special equipment.


Pack your bags and go to Italy to have a taste of genuine Italian gelato and have a taste of the best gelato in Italy. Have a little perspective about Italian interior design for your restaurant and take a class at the Italian Institute for Advanced Culinary and Pastry Arts on Artisan Italian Gelato Technique and Production or a course at Carpigiani Gelato University to be able to learn more about the Italian culture.




opening your gelateria
Make a blueprint for your business that includes all needed supplies and required special equipment. Remember to include the potential estimate of your monthly and yearly sales based on your research. Keep in mind to formulate what marketing strategies to use and the price range for your products.


Don't forget to obtain all necessary business licenses and permits required by your state and local governments.


Don't be boring with your packaging, help your gelato shop grow with packaging customization.


To attract more customers, provide discounts or coupons at the gelato events you participate in.


On your grand opening, give out free samples of your gelato, or educate them about the best gelato combos. Promote client loyalty by providing your attendees with discounts on their next purchase or on their next visit.


To make your gelateria stand out from the rest, give customers a frequent visitor card where they receive a hole punch or sticker for each purchase, and after a set amount of purchases, receive a free gelato.
---
Download our FULL 2017 catalog: