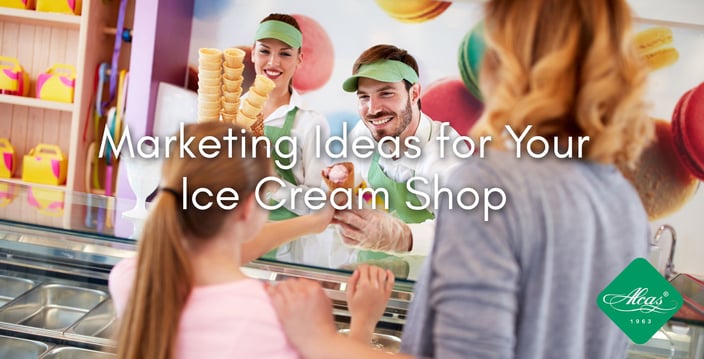 Selling ice cream can be as easy as catching a fish in a barrel. This is simply because everyone loves an ice cream scoop, especially during the hot days of summer where people seek comfort from cold sweets. People are willing to line up outside the best ice cream parlor under the heat of the sun just to get a single scoop. Although it's easy to make a sale when you own an ice cream shop, there are still some smart marketing ideas for your ice cream shop that can help you reach more success.
Sell more to your customers
You can double your sales by selling another product to your customers. This might not be a good practice for busy parlors with hundres of customers a day, but you can still do it by asking short direct questions such as:
Would you like to add some drinks to match that scoop?
Do you want to try our special strawberry chocolate cone?
Do you want to add some whipped cream and hot fudge to turn your ice cream into sundae?


Create unique flavors
Traditional flavors are truly top-sellers, but some customers might want other variations as time goes by. In order to compel them to come back for more, create new flavors that they haven't tried yet before. Many successful ice cream parlors grew big because they always come up with new flavors that were loved by consumers.
Heladeria Lares of Puerto Rico specializes in unique and exotic ice cream flavors such as spaghetti and cheese, cod fish and garlic, and other flavors you never had seen or experienced before. Therefore, do the same by introducing your own craft of unique flavors. Surely, you'll get more customers knocking at your ice cream parlor.
Drop a gimmick
Think of a way to win customers effectively without relying so much on your piggy bank. A gimmick can be a big hit in the market because it captures people's curiosity. One good example is the Mora Iced Creamery, they don't show their ice cream in their store. What they do is store their ice cream individually in beautiful ice cream tub containers because each flavor is given the right temperature while at the same time, kept separated from one another. There's no chance for the flavors to get mixed.
Moreover, Ana Orselli and Jerry Perez of Mora said that they actually let their customers taste as many flavors as they want before making their final choice. It really added delight to customers as a sort of free sample so that they would not regret the flavor that they have selected eventually.
You don't have to be negative with regard to gimmick, instead, think of it as doing something different for your customers to love you even more.


Other ideas you might also consider:
Placing a giant ice cream outside your shop can be a compelling sign especially for the kids.
Try some crazy ideas like serving a real 12-scoop ice cream cone and holding a contest.
You may also offer some delicious healthy desserts like a scoop of lactose-free ice cream. People are getting more health conscious today than ever before.



---
Download our FREE 2017 catalog below: