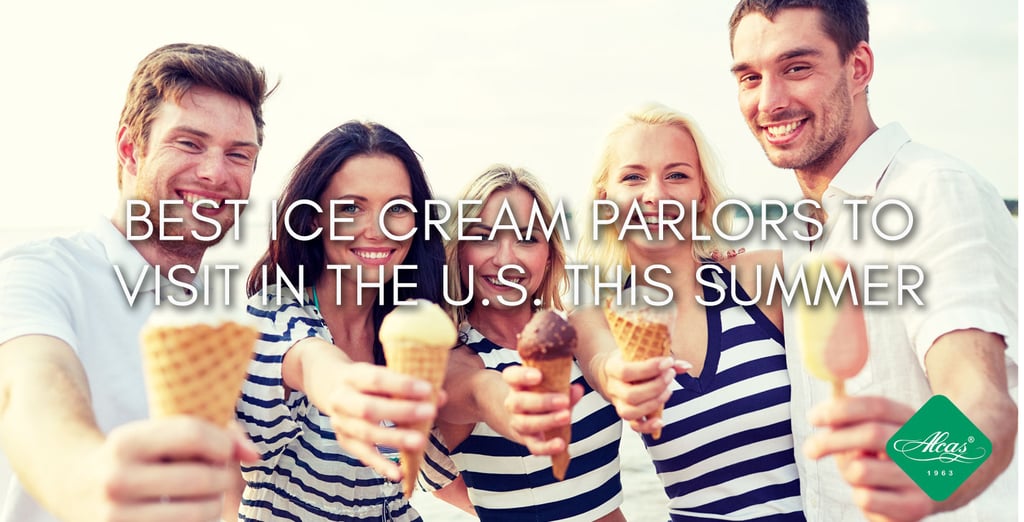 During this hot summer, nothing is more relieving than a scoop of sweet, delicious ice cream, especially is if it comes in a beautifully designed ice cream cup. If you're on a quest for the best ice cream parlors in the U.S., you came to the right place. If you're seeking for delicious gelato summer flavors to satisfy your palate, here's a good list for you. Read below for a list of the best ice cream parlors to visit in the U.S. this summer.
There's a bunch of desserts to enjoy with the family this summer, so check out the 10 best ice cream parlors in the U.S. that you absolutely have to visit:
Cape Charles, Virginia
Brown Dog Ice Cream is named after a lively chocolate lab named Foster. It says that this lab loves both children and ice cream. Members here constantly look for ideas to create a marvelous flavor that their whole family can enjoy. The ice cream flavors that they serve include mocha Scotch chip, blueberry lavender, and avocado; sometimes with lime, strawberry and jalapeños.
Hockessin, Delaware
This parlor is widely known for its ice cream that are made from fresh milk of its own cows. Although the farm began in 1796, the creamery only started in 1998. The parlor is known for its bacon-flavored ice cream which was featured in Food Network's "Unwrapped."
Narragansett, Rhode Island
The business is ran by the family, where children work behind the counter, and nephews help out in careers permit. The name was the idea of Chris and his wife. They offer 45 ice cream flavors like sherbets, frozen yogurt, sorbet, and no-sugar-added ice cream which are all made on site at their Narragansett location.
Queensbury, New York
It's been over six decades and still counting, this ice cream parlor stood firm for several generations. Although Six Flags owned it for 10 years, the shop was successfully returned to its family roots. New ice cream flavors are added daily. Everyone's favorites include raspberry chocolate twist, pistachio and mocha. Don't forget to check their flavor calendar before you leave.
Chincoteague Island, Virginia
The reason why Island Creamery's decadent ice cream is considered a cream of the crop is because of its all-natural, 17% butterfat mix from the cows of Lancaster County. The lovely flavors to try are: plain chocolate, bourbon-caramel crunch, caramel swirls and Heath Bar pieces. There's a strawberry that is made from local strawberries with homemade cookie dough.
Oxford, Maryland
Growing up in Scotland, Edinburgh Barlow came from a family that owns an Italian ice cream shop. He later on became its manager and eventually learned the secret to its super delicious ice cream flavors. At his very own Oxford, Maryland ice cream parlor, Barlow still uses ingredients imported all the way from Italy. Its Mexican vanilla, mascarpone and tiramisu are wonderful flavor choices you should try!
Santa Barbara, California
Talking about one of the oldest ice cream parlors, McConnell has been in the industry for almost 70 years, making small batches with dairy supplies from Central Coast Creamery in Pasa Robles, California. It is popular for its nonconventional flavors which include eureka lemon & marionberries, churros con leche and Turkish coffee.
Findlay, Ohio
For over 70 years, Dietsch Brothers continue to serve wonderful ice cream flavors both in year-round and seasonal times. They've got lime sherbet, moose tracks, mint chocolate chip, toffee caramel crunch and more!
Warwick, New York
They make homemade ice creams served in dessert cups or homemade waffle – 50 ice cream flavors in total. They offer a mix of your personal creations such as Black Dirt Blast, a chocolate coffee ice cream mixed with fudge and toffee pieces. This ice cream parlor is open seasonally from April to October.
Harborwalk Scoops and Bites Ice Cream
Punta Gorda, Florida
This could be the apple of everyone's eyes, the first place in serving the loveliest ice cream in America. Not only do they serve delicious ice cream, the view of their setting is another wow factor. Some of the must-try flavors are Kit-Kat crunch, rum-raisin and coffee chips. Their drinks are top choices too! Try their banana splits, milk shakes and Brazilian coffee. You'll surely love them.
---
Download our FULL 2017 catalog: