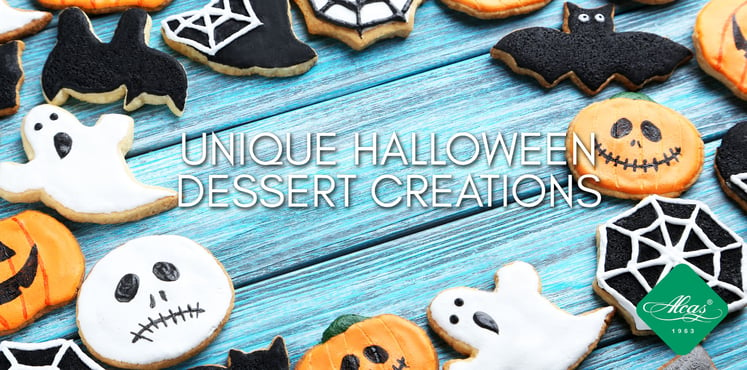 It's the final week of October and you know what that means! Halloween is just around the corner which makes everyone excited and giddy. What's the best part of Halloween? Trick or treat-ing, of course! Halloween is full of desserts and treats to enjoy with the family. Trick or treat means being able to go around town and collect different treats from our neighbors, family and friends. But if you're the type who prefers to stay at home and welcome these amusing trick or treat participants, this blog is particularly for you. Aside from offering candies as treats, you might want to be more creative and check out these new and unique Halloween dessert creations.
Here are the most unique halloween dessert creations for you to try at home:
Crème-Filled Chocolate Sandwich Cookies
This recipe is the classic cookie filling of your choice which can actually be made for all seasons. You can make it extra special for Halloween by adding a little scare to it. To join the color scheme of the Halloween season, add a third of the filling with orange food coloring and another third with yellow food coloring; keep one-third of the filling white to incorporate the famous colors of Halloween. You can also add a Halloween special to its taste by adding 1 tablespoon of your favorite extract, such as orange or almond. For adults, you can even be more creative and playful and add 1 tablespoon of bourbon or rum into the filling before dividing them into the different color scheme.


RELATED: Fun and Creative Halloween Catering Ideas
Pumpkin Pie Cutout Cookies
Treats become more fun and engaging, especially for children. So for this Halloween, you might want to explore making more creative designs for your dessert creations to add an extra treat for your trick or treaters. You can try making Halloween themed ice cream or cutout cookies. Try making these Pumpkin Pie Cutout Cookies which showcase the beautiful colors of the season such as orange, red, yellow and white. You will also not need to worry about these treats getting expired because you can actually bake them 5 days ahead of Halloween. When serving, remember to use high quality trays for pastries to serve the delivious creations you made. You can be as creative as you want and explore many designs like wind and leaf cookies, which are a unique part of the Halloween season. You can make the wind cookies and leaf cookies by making use of round cookie cutters and adding cute, little swirls to draw the wind, and you may also use different sizes of leaf-shaped cutters for fluttering flora.
Caramel-Peanut-Popcorn Snack Mix
This is also one unique treat that is not seen very often in Halloween Trick or Treat parties. The trick or treaters may use a paper cone to have a handful of these delicious snack. You may think that serving popcorn for Halloween may be a bit boring, but try incorporating homemade brown sugar, butter, and dark corn syrup topping plus mix some delicious candies to take this popcorn treat to a whole new level. Also add peanuts, caramel, and colorful candy-coated peanut butter candies, and you might just find yourself being the Caramel Peanut Popcorn Snack Mix star of Halloween!
---
Download our FREE 2017 catalog: