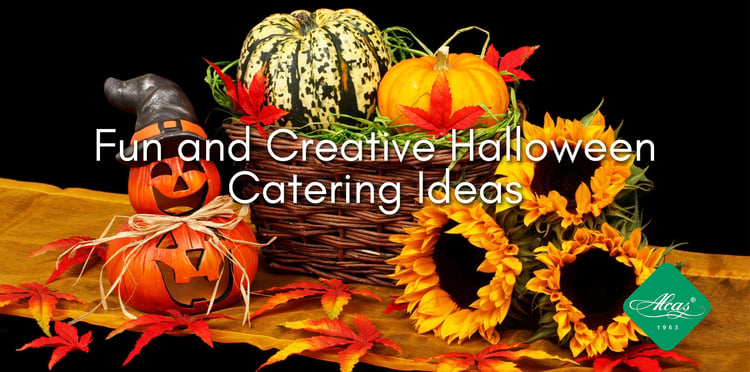 Halloween is a fun season to host school parties, corporate events, or even fall-themed weddings. Several corporate events happen during this time, costume parties that we love, and even freaky Halloween themed weddings some people never thought existing. These celebrations are excellent opportunities for catering businesses to be creative on their tablescapes, decorations and menus.
However, parties are often hard work which require you to do a lot of researching and planning. This article brings you fun and creative Halloween catering ideas with an ultimate catering checklist.
Halloween ghoul
In formal events, it would be fun to display some ghoulish Halloween to your arrangement. One good example is incorporating centipedes, snakes and spiders on your classic white roses to deliver a creepy yet elegant arrangement.


Fall decorations
If ghoul doesn't seem to fit your style, you may rely on other fall ideas. After all, it's a back-to-back season for Halloween and fall. You can add colorful leaves, fruit or vegetables such as apples and pumpkings to your arrangement to deliver a festive punch of color. Autumn napkins and place card holders would be perfect for the table to set up the mood. If you wanted to give each setting their own unique designs, you may use small pumpkins, nuts, leaves, sticks and fresh herb bundles. Fasten them together using pipe cleaners and hot glue and prepare for a spook-tacular successful catering event!


Spooky items
Professional spookiness can also be achieved by using small bones like dog treats, as well as plastic severed hands, mini broomsticks or witch hats.


Pumpkins
Pumpkins are popular decorative items for fall decorations, but nowadays, pumpkins are not limited to traditional orange or jack lanterns. New designs today come with green and white pumpkins that are made in order to create classic designs that work best when arranged in groups. If you didn't know yet, there are metallic colors that present a new chic way of arranging pumpkins and gourds – something that many people don't often see these days.


Candles
Candles are also fabulous items to display during Halloween, so start thinking about candles arrangement. Combine them with spider webs, ravens and even skulls. You may also try bleeding candles for a much better effect.


Halloween food
There is endless fun you can do with food during this time of the year. You can serve a special kind of fingers (pigs in a blanket), stuffed eyeballs (deviled eggs), cockroaches (stuffed dates), or bat-winged cheese balls. All these are cool ways to bring Halloween to your food. One of the most important is of course, your dish that should be deliciously made from classical fall harvests. Match this by adding new item on your beverage list. You may use black lights, neon labels and dry ice. This would deliver a mad scientist's lab instead of a traditional bar.
---
Download our 2017 full catalog: