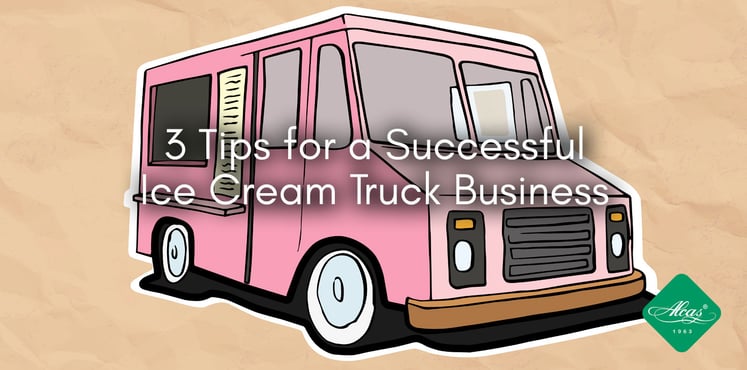 An ice cream truck business can be a great choice for entrepreneurs who are launching a career. The financial startup is not that overwhelming, the business itself is highly scalable, and the expansion is easily done by simply purchasing a second truck. Below are 3 tips for a successful ice cream truck business.

So you're interested in owning an ice cream truck?
Identify your resources
Basically, the first thing you will need is obviously an ice cream truck. Take note that you don't necessarily need to purchase a brand new one. You can find a used truck with installed freezers. You can also purchase a truck or a step van and make certain alterations that fits to your needs. The estimated price is from $10,000 to $20,000 for the truck.
Other expenses include gasoline and maintenance that may vary depending on your driving route.
For your ice cream, you have to purchase your ice cream products on a regular basis. This also includes the ice cream tubs, cones, dessert cups, toppings, ice cream cups and spoons, and other needed supplies. The good news about this is that you'll immediately receive payment for your products, giving you income to keep your inventory stocked.
You'll also need permits and licenses to operate, which are dependent on the location of your truck. Also, consult with your insurance company about the insurance quote for your ice cream truck.
If in case you're planning to start your business by yourself, you need to consider labor cost. If not, you have to budget your driver and ice cream servers.


Identify your ice cream
Traditionally, ice cream trucks sell ice cream novelties, but you may try selling soft serve ice cream and hard ice cream. The easiest choice is the novelties because all you need is sufficient freezer space. Food handling is not a concern to novelties since they are pre-packaged.
Soft serve and hard ice cream, though quite challenging, are better sellers which can give you more profit in the long run. The variations are limitless, plus you can vary the prices of scoop, depending on the combination of ice cream flavors, toppings, and more.


RELATED: Fun Gifts for Ice Cream Lovers
Identify your equipment
POS System is what common business owners consider in the beginning. However, if you're looking for ways to simply inventory management, you may consider an iPad cash register. This device improves productivity that aims to automate some of the grunt work in business. To maximize your sales, you may consider accepting different payment types such as cash, credit, and Apple Pay.
Freezer and ice cream machines are important equipments that you need. You may hire a professional refrigeration mechanic to ensure your freezers have proper power supply and to maintain proper temperatures.
LEARN MORE: Marketing Tips for Your Ice Cream Parlor
You may consider chest freezers with length from five to eight feet or smaller non-commercial freezers. To find out what you need most, calculate your available floor space.
A bluetooth portable speaker is a good equipment to consider because your music serves as a caller to inform people that you're coming. A canopy to shelter your customers is a good choice as well. Incorporate decorative signs to entice people of your servings.
Safety equipment is important as well, such as flashlights to let pedestrians and traffic know you are parked, and a backup alarm that warns people especially if you're setting up in parking lots.
---
Download our FULL 2017 catalog below: