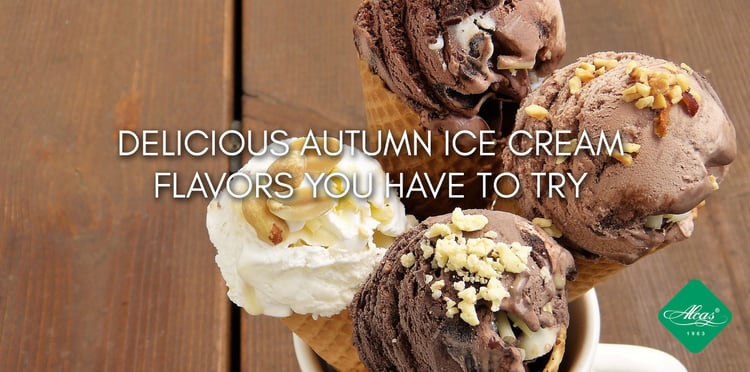 The end of summer doesn't always mean the end of eating ice cream. During the fall, you can still enjoy your favorite ice cream flavor even if it's a little colder outside. Try creating flavors that will match the fall season, like nutmeg, apple pie and pumpkin. Overall, here are12 delicious autumn ice cream flavors you have to try.
Nutmeg
Nutmeg ice cream flavor is a delicious add-on to many fall treats, especially to delicious pies.


Pumpkin
It's just inappropriate not to add pumpkin flavor into your fall must-have treats. Not only is it delicious, but it's a good choice for a spooky celebration.


Bourbon Apple Pie
Apple pie is definitely a marvelous treat to have, but it just wouldn't be right if you didn't experience having its flavor on your ice cream.


RELATED: Best Ice Cream Combos to Make at Home
Chai
If you haven't tasted Chai yet, you have to try it in one of your ice cream adventures. It's a flavor worth having!


Toasted Marshmallow
You heard it correctly! Toasted marshmallow is now part of a delicious frozen dessert – ice cream!


Cinnamon
Cinnamon ice cream flavor is a favorite of many ice cream lovers and it's a wonderful choice during fall season.


Pumpkin Coconut
If you're up to something so unique and yummy, you have to try this pumpkin coconut. It's crazily delicious.


Caramel Apple
Could an apple ice cream a day keeps the doctor away? That's probably the weirdest thing you've ever heard, but if you're talking about apple flavor, caramel apple is a good choice to have.


Rum Raisin
For those who are looking for some boozy treats, rum raisin will offer you something incredible to enjoy this fall season.


Honey
Honey is popular this time of the year because tea because a necessity to keep warm this season. So why not use this ingredient on your favorite ice cream flavor too?


Fig
Fall's favorite fruit is nothing else but fig. Swirl it around your favorite ice cream flavor together with some cream and sugar. Don't miss this on your list!


Gingersnap
A sweet and sour combination treat to give you something you will enjoy when summer ends.
So try all these choices for a wonderful summer finale. Remember that ice cream does not end when fall begins. You can still have all your favorites flavors yearound!
---
Download our FULL 2017 catalog: