---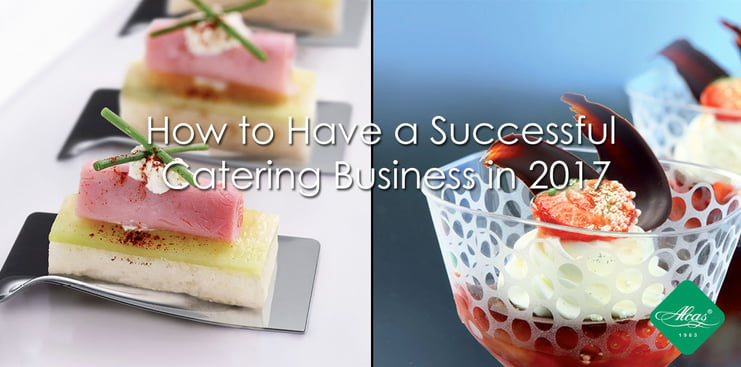 So what do caterers actually do? Simple. They make great food and create beautiful events. First impressions matter in catering and in today's advent of blogs about food, events specialists are growing more and more aware of the significance of incorporating an excellent menu to parties and events that they are organizing. Aside from the venue and theme of the event, one of the most-awaited aspects of the party is the food they have to offer. Once the food is unique to the guests' palate and satisfies them, you could sincerely say that the event is a success! With that being said, this is the part where you, yes you, caterers come in. Read more to learn how to have a successful catering business in 2017.
---
So how will you actually make 2017 the best year for your catering company? How can catering companies stand out? Just follow the tips below and you will find yourself headed to increased revenue, more event bookings and more satisfied clients, but most importantly how to have the best catering company.
RELATED: Alcas Introduces 3 New Products for Dessert and Catering
1. connect!
In order to succeed with your catering business, you must first widen your network of business partners. Your network should include local event-oriented vendors such as event organizers, florists, photographers and videographers, cake decorators, country clubs, restaurants, hotels and other viable event venues, musicians, event hosts, pre-nuptial photo shoot specialists, fashion designers (particularly gown designers) and even jewelers. Use your online connections to an advantage and actively participate in events forums which may be as specific as wedding blog forums or birthday party forums. Distribute marketing materials such as flyers and brochures containing the name and description of your catering company, the packages you sell and never forget to affix your contact numbers and your office address if applicable. Always maintain an open and responsive communication with your business partners in order to gain more referrals and event bookings.
RELATED: 5 Things to Consider Before Hiring a Catering Company
2. be competitive with your catering price list and party packages
Like any other business venture, you must be able to sum up your costing in order to formulate your catering price list. When listing down your catering's cost, it is important to take note of the cost of your produce and never forget to include your labor costs. This contains the number of hours you spend on production of the menus to be catered to each event. In order to specify your labor costs, try rating it quantitatively per hour to give you a better overview of how much money you need to put into labor, other manual skills, and services. Once you are able to determine your costing, you can now proceed to formulating your price list, keep in mind to offer competitive price ranges when compared to other events-oriented caterers. You may also try canvassing for various price lists from different caterers and events vendors in order to benchmark your packages and determine a win-win price list.
LEARN MORE: Purchasing Plastic Finger Food Containers for Catering
3. market your company
Marketing your catering company does not need to be a complicated job. Aside from the mentioned connections you need to establish with other events-oriented vendors, you can also try promoting your services through social networks such as Facebook, Twitter and Instagram. You should also have a website displaying the packages, price list and services that your company offers. You may also add a brief description of your company to give your clients an overview of who you are, what you offer and where to contact you in case they finally choose you as their caterer. The importance of good presentation in catering in crucial, so ensure that the quality of food and services you offer during your most recent event is only the best. If your client and their guests are satisfied with the way you catered them, your company will easily be promoted by word of mouth and you may be actually surprised by the referrals that will be coming your way.
4. think quality
Above everything else, in order to make 2017 your best year as caterers, you must remember to invest in quality produce, tasteful ingredients, creative menus, wide food options and high quality services. The quality of the food you create will have a lasting impact to your clients and to their guests as well. The satisfaction and happiness that they will feel about the event will hugely focus on the menu that will be offered and the food experience that they will enjoy. In order to make each event a memorable one, make sure that you give them an unforgettable palate experience too!
---
Download our FULL free catalog: