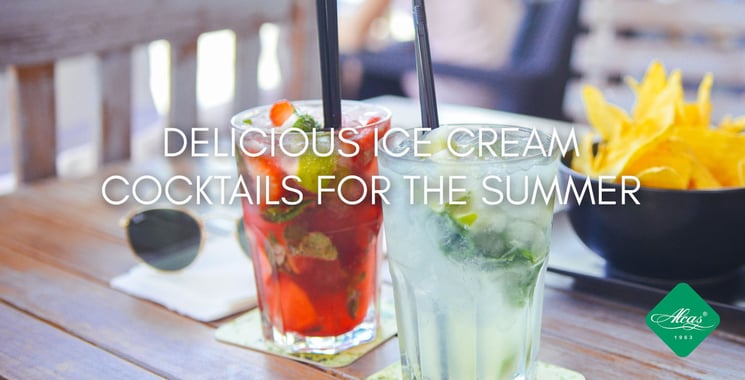 Just the sound of hot summer days gives you joy. If you're thinking about some ways to make this hot season even more interesting this year, why not consider a booze indulgence treat? Yes, it's time to deliver an enticing ice cream cocktail. Check out our list of delicious ice cream cocktails for the summer.
In this list, you'll find that most cocktails are blended with fruits (a healthy choice for you), chocolate, and your favorite liquors. Some of these are types of soda floats which are easier to make because blending is not required. Don't forget to pair your cocktail with a delicious summer dessert.
Frozen Banana Split Cocktail
You've tasted the marvelous flavor of banana split in a summer ice cream combo, but if you haven't tasted this one yet, a liquid banana split topped with chocolate and strawberry vodkas are so much better. This is your ultimate rescue when you're looking for a tempting, boozy milkshake on a very warm day.
Frozen banana split cocktail is easy to make. You just mix the vodka into your blender, add pineapple juice, a whole banana and the ice cream or milk. Blend it all until it becomes creamy. Once you're done, you're off to go!
Boozy S'mores Milkshake
You don't necessarily have to build a campfire to enjoy these lovely s'mores. This particular milkshake is easy to make, and it's a lovely creamy indulgence that's perfect for a summer wedding. All you need to do is mix four liquors against a sweet ice cream and chocolate base syrup. Of course, marshmallow vodka is there, added by RumChata, chocolate liqueur, Drambuie.
Twist and Shout
You may not have come across this one, but if you've been a visitor of Hard Rock Café, you probably know this, and how delicious it is. It is a shot of a dark stout that is paired with chocolate liquor and spiced rum. The blend is a mix of ice cream and chocolate plus caramel syrup. To make it even lovelier, you can finish it off with more syrup, whipped cream and bacon.
UV Liberty
UV Liberty is probably the easiest choice you can make, because it's made like a root beer float only that it is rather unusual because of its light, fruity profile. Its blue hue is the result of mixing UV Blue Vodka. Its flavor is enhanced using raspberry flavor and a scoop of raspberry sherbet. And the final ingredient is the lemon-lime soda.
The Inside Scoop
Have you ever thought about taking your liquor experience into a whole new level? If you do, then this one is for you. The inside scoop is actually another float cocktail and it involves root beer, so it's fancier than what most of you might think. It's a mix of Chartreuse, shot of Jager, and of course, your favorite root beer. A scoop of ice cream, root beer bitters and orange are used to top it off perfectly.
Love Potion #9
This cocktail is shining with strawberry - that's where it gets its pink hue. Its blend is paired with sweet chocolate that is especially lovely for everyone. To make this recipe, you can choose either to use strawberry or vanilla vodka. Add some crème de cacao, ice cream, fresh berries and ice. Blend it until you come up with a sweet, delicious cocktail you'll love.
---
Download our 2017 FULL catalog: