---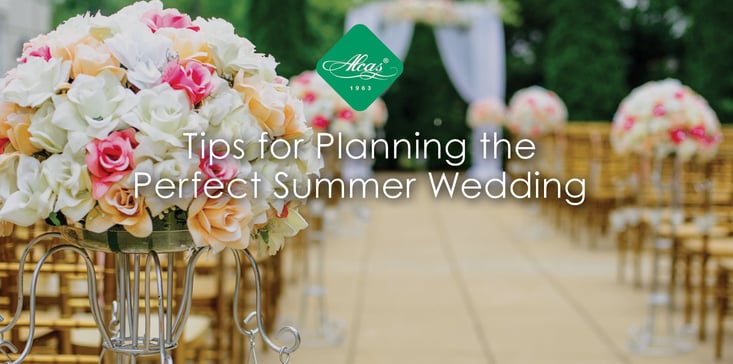 Have you been dreaming of your wedding since you were a child? As we grow up, we start to realize that planning a wedding can be though for us and for our pockets. But it doesn't always have to be this hard, read below to learn tips for planning the perfect summer wedding.
---
You also need to worry about important details like the venue, the number of guests, and the wedding theme. But most of all, you have to consider a few things before hiring a catering company. If you are about to plan your dream wedding, check out the following tips for planning the perfect summer wedding.
1. Study the venue beforehand
There are two kinds of venues for weddings. One is having on-site catering, and the other is allowing external vendors to cater the food. If you are choosing an independent caterer for on-site catering and your venue, does not permit outside food, it would be quite a challenge. Some venues will allow you to pay for the on-site catering and bring your own food, but that option is really quite impractical and not to mention difficult on your budget.
If you are really determined to have an independent caterer, you should study the terms and conditions of the venue beforehand, including its vicinity and its electrical and technological system. If, for example, you want to serve well-done steaks to 300 guests but your venue can only offer one induction burner, then your dream wedding would not be so dreamy after all. So in order to prevent this, research about the venue first.
2. First Impressions last
First impressions matter in catering. The most important phase of choosing your caterer is the initial meet-up. You can't just rely on the colorful pamphlets that they give away, where they display photos of their meal creations. You must make sure not to make the mistake of drafting a proposal without making an initial 15 to 20-minute call. So before closing any deals, make sure to meet your caterer first and lay out all the specifics to avoid future confusion.
3. Create a workable budget
To avoid disappointment, make a realistic budget that you could work on together with your caterer before making any course planning. Caterers are often honest and help you decide on what is possible to do with the budget you have on hand. This will also serve as a test to decipher if your caterer is someone who says no if you will not reach a certain budget. After all, you would want a caterer who will work with your budget and not against it.
---
Download our FULL 2017 catalog below: