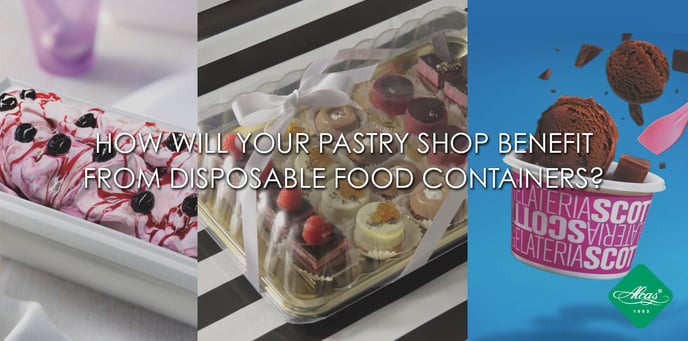 Nowadays, people are putting all the blame of our environmental crisis on the plastic glasses and even the disposable food containers that we use and own. Restaurant owners, don't worry. It's about time to have your business benefits from there containers. If you think you just have to throw these away, think again. These containers may be disposable, but they sure are a great help to your pastry or gelato/ice cream shop.
---
So, how will your pastry shop benefit from disposable food containers? Learn how we can change the way people look at these containers.
RELATED: How Biodegradable Products Can Help the Environment
Think about Sanitation
Yes, one of the many advantages you have to consider is sanitation. Since the cups and containers that you use are just ordinary dessert plastic containers, you can simply throw them away. This helps reduce the chances for you to get food-borne diseases, and the contamination is eliminated.
It is about Saving Water and Energy
Washing your dishes and reusing them takes time, effort, and most of all, water. In the catering and food services industry, you will be using those industrialized dishwashers which requires a huge amount of water to complete the process. Do you know how many gallons of water per minute those major restaurants consume? These kinds of dishwasher needs up to 8 gallons of water each minute. In addition, the water has to reach up to 180 degree Fahrenheit. Compared to plastic containers for dessert, you would no longer find time to wash and worry about the amount of water as you simply throw these containers away.
RELATED: Why Buying Wholesale Plastic Containers is Better
Yes, it is definitely convenient.
This is one of the major reasons restaurants prefer to take advantage of these plastic containers, because of the convenience it brings. All they need is keep the food in these containers and everything is all set. Things have been made easy not only for the pastry or restaurant owners, but for the customers as well. If you are in a hurry, all you need is to put the soup or the dessert in a disposable to-go container and eat it later.
Keep it from Spoiling
Last but not least, these disposable containers are great if you offer delivery and even takeout food. You have to keep in mind that they are not just to make the food look good, they are also designed to keep them fresh while in transit. In short, your food is still fresh even when you take it from the restaurant to hours away from it. This packaging keeps your favorite dessert from spoiling.

RELATED: Purchasing Plastic Finger Food Containers for Catering
---
Download our FREE catalog: