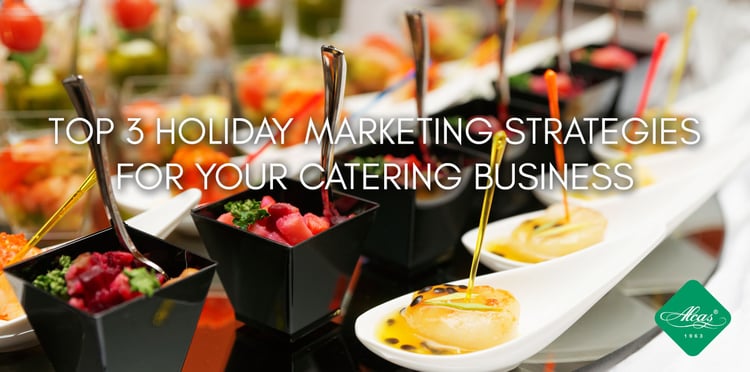 The holiday rush is coming! Lovers kissing under the mistletoe and snow falling down from the sky. Winter coats are popular these time of the year to give comfort to that certain chill hanging in the winter air. Christmas songs resounding inside the malls and children are excitedly taking pictures with Santa. Yes! The holiday season is definitely here. What better investment for your business than to prepare your marketing strategies? Read our blog to learn the top 3 holiday marketing strategies for your catering business.
In order to succeed with your marketing plans for this upcoming holiday season, what you need to do is do a lot of thinking because the planning stage is the most critical part of all. Stay away from the usual holiday trends as they may be old and will not give you a long-term marketing benefit. Why blend in when you can make your catering company stand out, right? Set the trend and see your business on its way to more sales and closed deals this holiday season!
Read on and learn all about using an integrated marketing approach where you can utilize various marketing mediums to reach out to your target market. Below are tips to assist you in having a successful catering business during the upcoming holidays:



1.

Start your own holiday landing page
The main goal of a landing page is to turn your website visitors into leads and potential sales. A landing page focuses on a specific subject of interest, in this case in relation to your catering business with the objective of increasing your sales. You can create a landing page with the following topics: Holiday parties, social gatherings, observed holidays like Christmas and Hanukkah, and other events such as weddings and birthdays held in the winter.



LEARN MORE: MARKETING GUIDE FOR YOUR CATERING BUSINESS
2.

Model menus for the Holiday season
Create model menus of your signature holiday recipes and entice your target audience by giving them a snippet of what to expect from your catering business this holiday season. Make sure you show off your creations on high quality Italian finger food containers, trays and accessories for pastry creations, and cake stands. You may distribute these sample menus through different marketing platforms like email blasts, posting it on your website or make use of the various social media platforms like Facebook and Instagram to connect with you clients in just the click of a button.



3.

It's all about the content
The digital age has gone crazy over content marketing and for a very important reason. With the use of content, such as creating a blog on your website, you will be able to reach out to an even larger market. Nowadays, everyone is turning to the internet for suggestions, food reviews and business information. It's a smart decision to take advantage of this digital culture by highlighting your holiday menus, holiday packages and even your holiday rates for your catering services in order to attract more potential customers!
---
Download our FULL 2017 catalog: