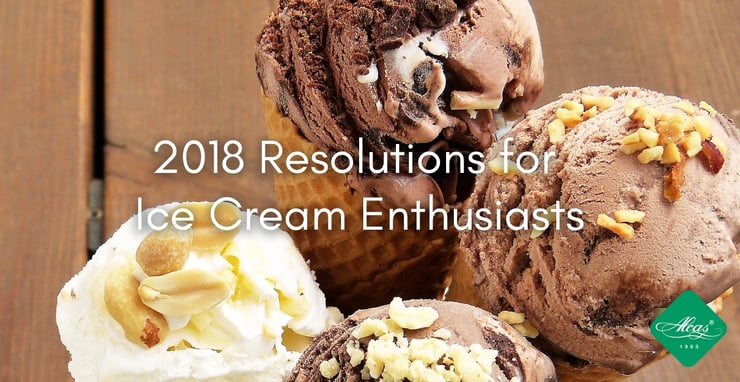 We're almost 3 months into 2018, how are those new year's resolutions coming along? Hopefully, this year you will fulfill them by December. Most people would usually decide to join the gym, finish reading their favorite books, or incorporate more greens in their diet. However, if you're an ice cream fanatic, these 2018 resolutions for ice cream enthusiasts may not be included in your list. If you want some excellent New Year's resolutions ideas, here are some that will definitely help you continue your year right.
Try New Flavors
Most ice cream fanatics like to indulge themselves in their favorite flavors and forget that there are hundreds of flavors available out there in the market. Instead of indulging yourself in the usual chocolate or vanilla ice cream, try new flavors this summer like pistachio or cookies and cream. If you're up to it, you can even try weird flavors such as asparagus and siracha. Who knows, you might find a new flavor and you can ditch the usual ones that you like to eat.
Always Keep a Pint Handy
It is late at night and you're ready ,to enjoy your evening off and binge watch your favorite show. You are relaxing on the couch ready to indulge in your favorite ice cream so you go to your freezer in search for it. Then all of the sudden, you realize that you don't have any ice cream left. This year, this ain't going to happen. Always keep a pint handy for these type of occasions. This way, you won't have to drive a to the nearest convenience store just so that you can have your daily dose of ice cream.
Use Ice Cream as Ingredients
Who says ice cream is only for deserts? Ice cream can be healthy too! There are a lot of desserts that you can cook where you can include a good scoop of ice cream in them. If your sweet tooth craves for it, you can put a scoop of your favorite ice cream on top of a roasted chicken to give it a sweeter taste. If you are going green, you can also put ice cream on your favorite vegetable salad instead of using mayonnaise.
RELATED: FUN GIFTS FOR ICE CREAM LOVERS
Recruit a Friend
While most ice cream fanatics like to eat their favorite ice cream on their own, it also pays to share. You can invite a friend over and share your favorite ice cream with them. This way, you can be more social and you can share your passion with a friend. Who knows, they might develop a sweet tooth and become an ice cream fanatic like yourself.
Get Crafty with Empty Pints
After you have finished a pint of ice cream, don't throw the container away! The pint can be used for different purposes such as a pen holder, a tissue holder and a lot more. This is where your creativity comes into play. When it comes to creating crafts with ice cream pints, the options are endless.
---
Download our FULL catalog below: