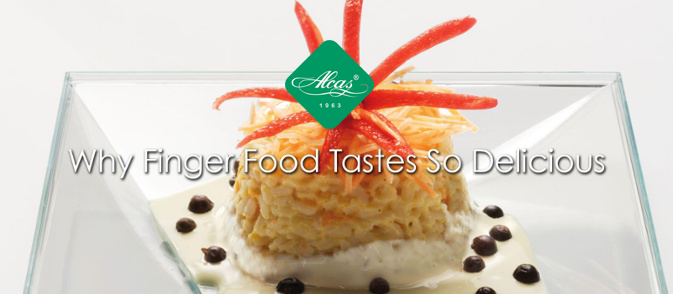 Nothing should come close to you and your food! Not even the tyrannical laws of etiquette and the utensils. Eating with your fingers is a bygone practice that, depending where you are, most people might view as unethical. Believe it or not, there are a lot of cultures that embrace utensil-less eating and prefer to eat using their hands. But eating with your hands can be a freedom experience. Learn why finger food tastes so delicious, and how you can make your party or event more beneficial.
---
Finger food such as french fries, hamburgers, and pizza are best enjoyed without the use of utensils. C'mon, would you rather eat these foods using a knife and a fork? That is just downright wrong and you will not be able to lick off those scrumptious sauces. There are a lot of advantages that you can get by eating using your fingers rather than utensils for maybe your corporate party.
RELATED: Purchasing Plastic Finger Food Containers for Catering
LESS TRASH
After throwing a party at your house, prepare yourself for a mountain of trash that you will need to clean up. Throw away those spoons and forks and serve finger food to your visitors without using any utensils at all. But don't forget to provide napkins or paper towels for your guest to clean themselves. It's also a good idea to have hand sanitizer available for your guests to clean their hands.
Forget those glasses for your dessert such as ice cream. Using cones can reduce trash since these are edible and most people enjoy digging down on that crunchy goodness. Always remember, less utensils means less trash and the less trash you have in the end, the less time you will be spending cleaning up after your guests. Throw away those plastic containers for desserts and eat dessert the old fashion way.
LEARN MORE: How Biodegradable Products Can Help the Environment
It is all about finger food catering. A lot of catering companies provide retail packages for finger food goodness and these does not include a single spoon or fork. Not only will you be able to indulge your guests to a brand new way of eating food (of course practicing proper hygiene first) , but you will also save money as well. Catering companies tend to charge extra, especially for utensils that are most likely disposable. Everybody likes to eat with utensils so give your party an extra twist and let them eat the old fashion way. It is always good to throw out utensil etiquette once in a while and and dig in by grabbing a handful of tasty finger food.
---
Download our FREE catalog: