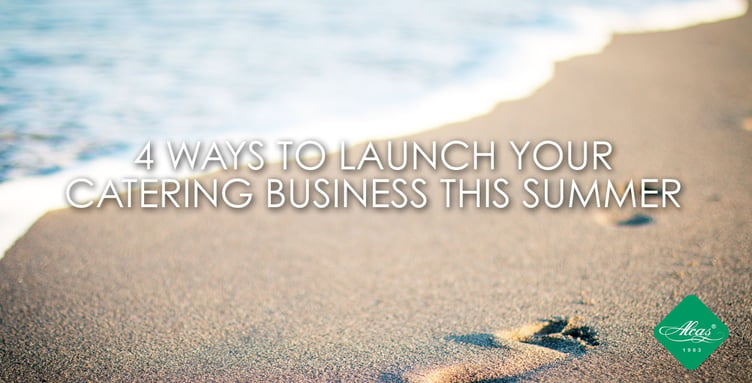 Summer brings numerous surprises and memories to cherish for a lifetime. As a new catering business owner, you should know that this is the perfect time to elevate your revenues because celebrations, gatherings, parties and weddings are huge in summer.
In contrast to other seasons of the year, competition is more tenacious in summer. Don't get left behind and use these four tips to win even more customers and have the best catering company. Read our blog to learn 4 ways to launch your catering business this summer.
Simplicity is beauty in catering business; therefore, keep your menu options simple. The thing is: you don't want to overwhelm your potential clients with dishes you can't even keep up with. So begin with 4 or 5 items you prepare well and which you can mass-produce easily. Make sure you have the right catering supplies and avoid complicated menu that takes a lot of time and energy to prepare. For a good start, serve pasta, sandwiches, salads and other foods that can be packaged with ease. Don't forget to use high quality catering containers for finger foods. Make a simple start, but guarantee the incomparable quality!
Offer a variety of options
A simple start will work more effectively if you offer a special something for everyone. Did you know that the gluten-free food craze became a $3.47 billion industry, and a vegetarian (or vegan) optins are almost always served at every parties? Every now and then, businesses bring up something new on the table and it's wise to do the same. This summer, offer a special something for picky eaters as well as for children. Give your customers an impression that your business is good for everyone not just selected few.
Free samples always pay off in a successful catering event, especially in making your customers come back for more. If you deliver a mass order worth thousands of dollars, consider giving some free samples of your best dishes. Excellent samples have potentials for re-orders from customers. Even more, satisfied customers spread a word about generosity, which could help in your marketing strategy. In giving off samples, you are not only strengthening your relationship with your current customers, but you are also attracting good customers for the future.
Plan out your marketing on special events
One important thing to remember in catering business this summer is "the more people, the more food needed". There are plenty of school graduations, birthdays, weddings, 4th of July gatherings and more. As you determine the special events happening this summer, inform the public about your dishes that are perfect for their celebration. Let them know not to miss any of your amazing offers!
So hurry up and grab all opportunities you have to launch your catering business this summer. These four tips will surely give you a greater edge in the market competition as restaurants seek for the best catering business available.
---
Download our FULL 2017 catalog below: