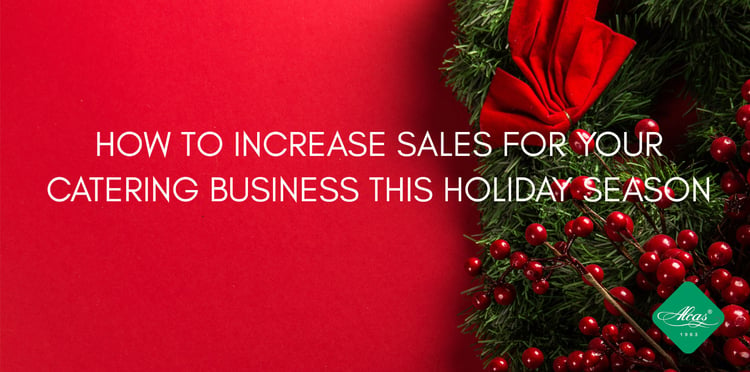 Christmas is the season when friends and family come together and celebrate. What better way to enjoy the time together than with food, right? This beautiful tradition of coming together and feasting over food is a great opportunity for catering businesses to serve to clients celebrating fall-themed weddings, holiday get-togethers and corporate end of the year events. Make sure that you are able to take advantage and increase sales for your catering business this holiday season by keeping in mind these following tips.
Remember your past clients
Sending a holiday message of cheer to all your clients is a great marketing strategy for your catering business. Be kind enough to show gratitude to them for trusting and being loyal to your business, and don't forget to highlight your special holiday menu and Christmas promo packages. You may also opt to provide a few menu rates to give more convenience to your customers. Don't forget about your old clients because they may need some updating in terms of the packages your catering company offers, including your most recent pricelist. In order to thank your clients for their loyalty, you may choose to offer special holiday discounts or provide freebies if they choose your Christmas packages. This way, your clients will feel valued and will have a sense of loyalty towards your catering business.


RELATED: Dress Up Your Holiday Table With Disposable Silverware
Leverage with other offices near you
The holiday frenzy usually takes most of our sanity, especially for people who work in offices. Their minds are usually pre-occupied with piling holiday to do lists, such as shopping item lists, end of the year parties that they are preparing for, and all the other things they need to accomplish just in time for the holiday rush. Usually, in order to keep the momentum at the workplace, office managers find unique ways to keep their employees engaged, such as giving away holiday treats. Be prepared for these kinds of catering opportunities no matter how last minute they may seem. The possibilities are limitless.


Keep your menu as the star of the party
In any catering business, the planning phase is the most crucial of all. The ability to carefully plan your menu will pretty much determine the success of your catering business this coming holiday season. Even if it will be very tempting to overdo it just to vibe with the festivity of the season, keep in mind that a simple menu will always catch the attention of your clients. Having too much of everything and offering too many things might add to your already frenzied client and might lead to having your services rejected. Despite keeping your menu classic and simple, do not forget to communicate to your client that you are open to adjusting your catering services based on their specific needs. This attribute of personalizing the menu specific to your client's preferences will make them feel that you value their taste and opinion. After all, it's still their event and giving them that sense of control will surely bring more positive impact to your catering business.
---
Download our FULL 2017 catalog: