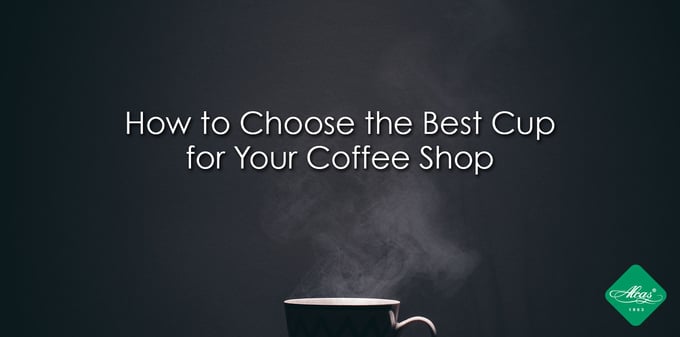 The main purpose of a coffee shop is to serve the best coffee in town and keep all clients happy. To do so, more than just great coffee is required, you also need the best cups to serve that delicious coffee in. But what defines 'the best cup'? Read below to learn 3 important tips on how to choose the best cups for your coffee shop.
---
As a coffee shop owner, how do you make the decision on which coffee cups to buy? What things should to keep in mind when making this purchase?
1. double insulation
Insulated cups are cups that keep your drinks at the desired temperature, whether hot or cold. It's important that you have double insulated cups at your coffee shop because you want your clients walk out of your shop with a warm drink, and still have a warm drink 10-20 minutes later.
Be on the look out for cups that have grip technology, to avoid your customer's from burning their hands. If your cup burns one of your visitors, the results can be terrible: getting wet, having stained clothes, or even worsr - ending up at the hospital. This is the result of purchasing low-quality coffee cups.
RELATED: Product Spotlight - Coffee Way - Styrofoam Cups & To-Go Containers
2. choose biodegradable cups and containers
Nowdays, ice cream, gelato, and coffee shops and taking advatange of biodegradable cups to help the environemnt, and stand out from their competitors.
Alcas' BioHappy is the first line of environmental friendly products for gelato shops and pastry shops. They are made of bio-plastic coming from corn. It's a very innovative material, more ecological than paper, more transparent than glass and as flexible and resistant as plastic.
LEARN MORE: How Biodegradable Items Can Help The Environment
3. design matters
Your coffee shop needs to have a brand of its own. Your desing, logo, and interior design needs to come together as one. Look for coffee cups that have fun, vibrant colors. This makes your customers smile, and want to come back for more. Make sure that your design represents your coffee shop, so that you have a strong brand identity that your customers always love and recognize. Make your business standout when choosing the best coffee cup.
---
Download our FREE FULL CATALOG below: