---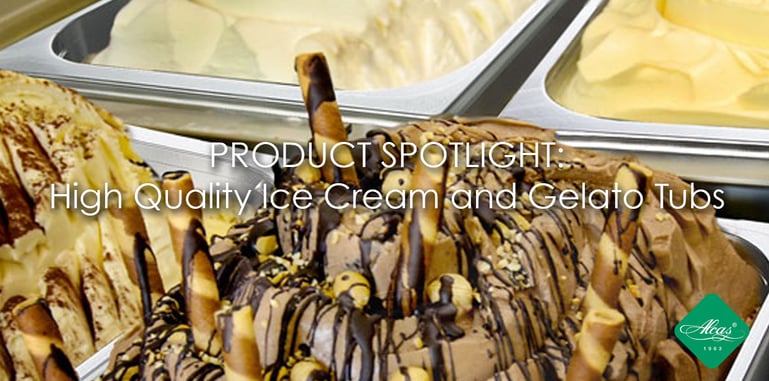 How tempting is it seeing ice cream in your fridge? Or how when you visit your neighborhood's gelateria and you just want to take that whole ice cream tub home with you? Ice cream and gelato parlor owners not only ensure that the product they serve to their customers is inviting and making them want more, but they also make it a point that the gelato is perfect packaged. Read below to learn about our product spotlight of the month: high quality ice cream and gelato tubs.
---
ICE CREAM TUBS
You want your gelato parlor to stand out from the rest, right? The ice cream tubs that you choose for your gelato are important. What are they may of? Are they made of high quality material? These are some of the questions you have to ask for youself before purchasing them. To an owner, it's not just about choosing any tub for the gelato, but it's also considered as a marketing tool so everyone can see. Remember, the food you serve suddenly becomes more tasty when your customer sees exciting and interesting colors. This is the reason that Alcas offers high quality, multicolored ice cream tubs to meet any requirement.

CLICK HERE TO CHECK OUT THE REST OF OUR ICE-CREAM TUBS
WHAT MAKES THE PERFECT ICE CREAM TUB?
Unique ice cream and gelato cups need to have the qualities gelato shop owners are looking for. These days, parlor owners focus on how the packages affects the environment. This is one of the reasons Alcas's offers containers are made of eco-friendly materials. Did you know tha plastic is better for the environment than paper?
RELATED: How Biodegradable Products Can Help the Environment
Last, in order for it to be considered the perfect ice cream tub, its design also matters. Keep in mind that the size, shape and color adds flavor to the gelato your clients are eating. This means packaging your sweet cold treat has to be perfect. Along with the good material, the design must be able to entice your customers and prospects.

Ice Cream Tubs

Ice Cream Tubs
In conclusion, ignoring the containers is the same as turning your back on your customers. Consider it a domino effect when you don't choose your ice cream tubs wisely. Your customers are the lifeblood of your gelateria. Without them, your parlor wouldn't exist.
---
Click below to download our FULL catalog: