---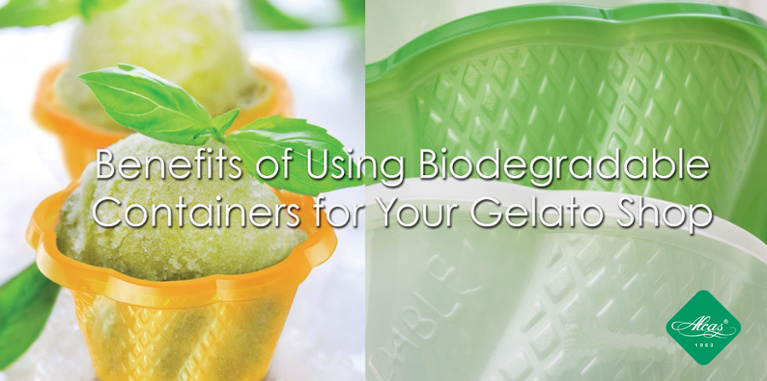 Along with the change of climate in the environment, every year we witness how mother nature takes its toll on us. Perhaps, humans are to blame for this. The way we live our lives every day is affecting our environment. Not using biodegradable or eco-friendly containers has brought a greater impact on the well-being of our earth. This is the reason why using these unique plastic containers in your ice cream, gelato, or pasty shop is a phenomenal idea. It's time to take advantage of biodegradable items, such as cups and other containers, at your shop. Read below to learn the benefits of using biodegradable containers for your gelato shop.
---
Containers that are made from environment-friendly materials, such as biodegradable products, already gives you a head start at helping our environment. As you read on you will realize the need of changing your plastic cup with lids for desserts served in your shop to a biodegradable one.
LEARN MORE ABOUT BIOHAPPY, ALCAS' BIODEGRADABLE PRODUCT LINE.
Less time to break down
Do you know how long it takes to decompose paper containers? It takes years before papers breaks down or gets absorbed in nature. This is the reason why you see bottles on the side the shore of some beaches. Chances are, they'll be there for many more years unless someone cleans it up. So not only can biodegradable containers break down faster than you can think, but they can also be recycled with less energy.
Biodegradable products, on the other hand, takes less time to break down. Alca's BioHappy product lines are cups and containers made from plastic polymer derived from corn. They are completely biodegradable (PLA), and are made by an innovative and ecological material, maize bio-plastic.
RELATED: How Biodegradable Products Can Help the Environment
A material that is renewable
In other words, these biodegradable food service plastic containers come from biomass such as trees, plants, and all those organic materials. This simply means it is a renewable resource and an organic compound which can easily break down. It's made from nature, so it goes back to nature.
less energy to produce
Believe it or not, they require only less than half of the energy needed to produce plastic. It may sound unreal, but this is the truth. Non-biodegradable products demand more energy to produce. Should the marketers or entrepreneurs need, the more energy is required to supply these shops.
As more and more shop owners have realized on the effect it would bring to nature, biodegradable containers with its unique shape and design are being taken advantage. It is about time that you would consider.
---
Download our FREE catalog: