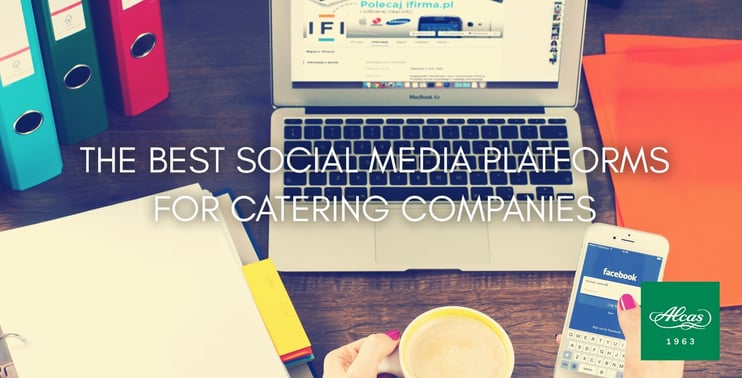 Social media and social media marketing has been one of the latest trends in the past years and business owners are still learning how they can take advantage of this. There is an increasing number of opportunities that are released on different social media platforms each year, increasing the chance of penetrating the market with all the social media strategies available.
As you've probably noticed, the world is going mobile, which gives each you the opportunity to communicate with anyone faster and in a simpler manner. That is why a lot of social media platforms are big, or only available, on mobile. For catering companies, it's important to know what social media platforms are the best for your business and follow a marketing guide for your catering business.
Listed below are the best social media platforms for your catering business.
FACEBOOK
Facebook is considered the largest social network for potential consumers. Also, a Facebook profile is usually the second form of verification in a consumer's research phase. The first one is the website which every customer will have the liberty to judge on. The second will be their Facebook account. It is undeniable that Facebook offers some of the most precise targeting on a paid advertising level. It can definitely help your business in any way they can.
RELATED: 4 Things You Should Know Before Starting a Catering Business
TWITTER
Twitter is known as the "second name" in social media. But it can also be beneficial to a catering business. This platform may not produce big ROI numbers, but it may help you come up with marketing ideas for your business. Twitter is also very effective in keeping the brand name in front of the competition as well as spreading news about your business.
LINKEDIN
LinkedIn may not often be considered as a social media site but a lot of companies use this platform for their marketing strategies. What's good about LinkedIn is that it's a completely different vibe than the other social media sites. Most people continuously utilize it for business purposes only. However, if you choose this platform, you may have to use a different strategy than when you post on Twitter or Facebook.
PINTEREST
This can be one of the most beneficial platforms for a catering business. Pinterest is mostly used by women, and it's a hit when used for planning dream weddings, home remodels and new recipes. But there's more in store for the users. This platform can be a great way to show off what you can do. Pinterest is also considered as one of the first successful photo-based search platforms where anyone can share photos of anything with anybody, regardless of being "friends" or followers". This can be an effective platform on which to "soft-sell" and build up your reputation as a business.
YOUTUBE
YouTube is the first name that almost all Internet users think about for anything video-related. It's also a place where most "YouTube-ers" and artists upload their video content. YouTube is an excellent way to host your own video content so that you can reach more unique users. They also offer a large number of advertising opportunities with a very little cost which can greatly help companies build brand awareness to the local public.
---
Download our FULL catalog below: