---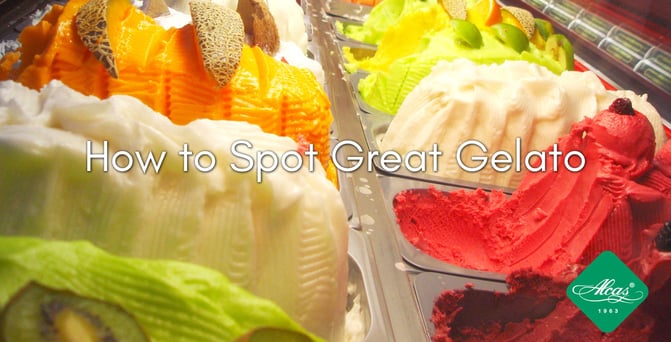 Let's face it, everybody loves ice cream right? As a matter of fact, your mouth begins to water the moment you see those dessert plastic containers. Especially gelato, which is an Italian version of ice cream. Of course gelato is hard to resist, but if you ask yourself one question, is that gelato just plain, normal, everyday gelato or is it good gelato that will satisfy your sweet tooth and make you say it's the best you've ever had? Pretty much all gelato that you taste in any gelato shop is delicious, but how exactly can you differentiate good gelato from great gelato?
Here are some tips on how to spot great gelato:
Look at the color, especially the fruit flavors
When determining whether you will be eating good gelato or not, always look at the colors, especially for banana, apple or berry flavors, which are the easiest to tell. Gelato that has fruit flavors are always made of pure and real fruit and because they are not made from artificial flavoring, it is understandable that they will have the same color as the fruit itself when you crush it. For example, banana flavor needs to have an unappealing shade of gray and apple will either have a white color or flecks of peel.
If the gelato in front of you has the same color of the fruit that has not been crushed yet, like banana in yellow color or berries in a blueberry color, then most likely the gelato is just a mixture of milk and food coloring with artificial flavors. Another good example is pistachio flavor which should be the color of crushed nuts, not bright green. So, the next time you check on the color, don't just focus on the colors and designs of the customized plastic containers, but also on the flavor that you're eating.



seasonal fruits?
All gelato shops will serve gelato that have lemon, strawberry and other flavors all year round. There are some that will observe the seasons and will usually serve watermelon and peach flavors in summer, pear and fig apple in autumn and a selection of berries during summer. When shops observe the seasons in which fruits are offered, then they are putting in extra effort in serving up flavors that suits the season. Also, since these fruits are in season during these times, then you can be sure that you will be eating 100% natural gelato. If you visit a gelato shop during the summer, not only will you notice different flavor that make your gelato colorful, but you will also notice the personalized plastic containers to match the summer season.



mountains of gelato
Gelato has a soft and fluid form and naturally it will flow down in time just like pudding. The only way that gelato will be able to sustain a tall mound is either if it's frozen or if there are certain chemicals that were added to the mix. This is one of the reasons they are served in plastic containers for gelato. Big tall mounds can be a warning sign that you would not want to ignore. Good gelato shops will not have an open bin, instead they keep the gelato in special plastic containers for desserts that have a deep lid.
hazelnut anyone?
Hazelnut is a popular flavor, and it might be something that you'll want to try if you are going to a gelato shop. However, it is one of the most expensive flavors. As a matter of fact, shops usually offer chocolate hazelnut flavors which come in the form of Nutella, but is not pure hazelnut. Some shops even use artificial hazelnut.
---