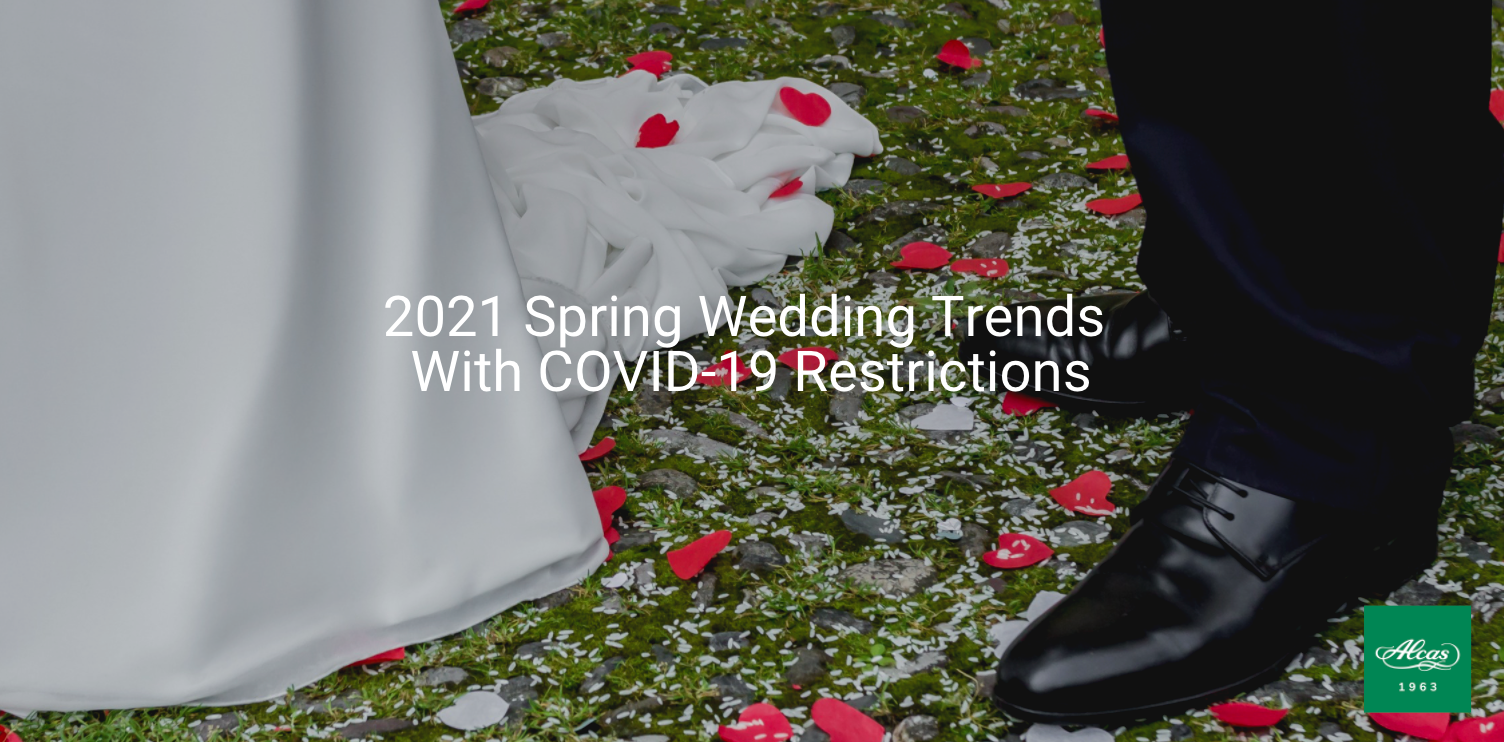 Spring, or mostly known as the wedding season, is in full swing now. Cities and states across the country are cautiously lifting COVID-19 restrictions and couples are finally able to start planning out the wedding of their dreams. 2020 was an unexpected year and a lot of trends have changed. But you don't need to worry as the trends right now are still spectacular.
Here are the top five spring wedding trends you are about to see in 2021.
A COVID-friendly welcome gift
You should make sure to include a welcome gift so that your guests won't have to worry. Pack hand sanitizer, masks, venue instructions/restrictions, and other COVID- care items into little boxes or bags for the welcome gift. This will also give you some peace of mind knowing everyone has a mask in hand and some basic essentials.


RELATED: TIPS FOR HIRING THE BEST WEDDING CATERER
Micro-weddings
This is one of the things that came out as a positive thing during this time. It is the normalization of smaller "micro-weddings". Micro-weddings are typically smaller in size, either formal or informal, traditional or modern. It involves the personal details of the couple and allows for the celebration to center around quality time between the couple and the guests. You don't have the pressure of inviting every individual you've ever met to your wedding. By having micro-wedding, you'll know the names and histories of every guest – and you will actually have the time and space to chat with each one on your big day.


Second weddings
Second weddings are a major trend this 2021. For some couples, an unexpectedly small or quick wedding was just one piece of their wedding puzzle. Understandably, many couples are getting married again this year to make up for their smaller, 2020 wedding. In any other time and place, a second wedding so soon may seem ludicrous. It all depends on the couple if they want to throw a bigger wedding that they deserve.


Living room décor
Cozy chic is the new trend this season. These include plush, oversized pillows, couches, and antique aesthetics that add a creative and comfortable touch. Wedding décor has changed from decade to decade, but we are hopeful this one trend will stick. Comfortable seating for guests is a major plus, along with the laidback, elegant ambiance created instantly from timeliness and unique furniture. Guests are sure to feel right at home.


Fresh air activities
With the rise of non-traditional ceremonies and outdoor weddings, you can count on engaging in some fresh air activities this wedding season. Most activities like cocktail hour will likely be outdoors or on a patio, and after-party events are sure to include outdoor games, dancing, and other activities under the stars.
Tents and twinkle lights are the trends for weddings too. This match made in heaven turns any outdoor space into a truly magical one. Nature, combined with the ambient glow of slow twinkle lights and festive tents makes us swoon for outdoor weddings all over again.
---
DOWNLOAD OUR CATALOG BELOW: